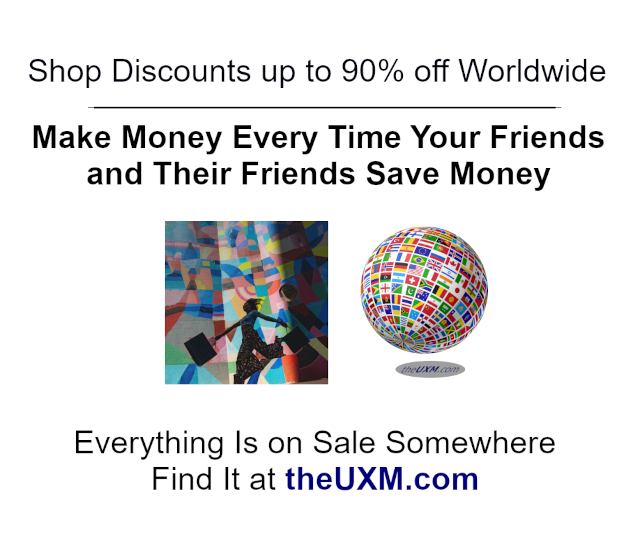 Share Your UXM Link to Make Commissions Forever
At theUXM.com you can find a great deal on everything from a designer handbag to a container of auto parts. You'll enjoy discounts and bonuses from all around the world and right in your own backyard. Plus you and your friends can make commissions when you share the UXM with more friends. You receive commissions FOREVER from your UXM networks. The UXM is always free to join for everyone.The UXM can support every type of transaction including online, offline, B2B, B2C, O2O, C2C, D2C in one simple easy-to-use web app found at theUXM.com. The UXM is always free to join for everyone.
Want to see how easy it? Start your money-making money-saving UXM network right now for FREE in under 30 seconds, click here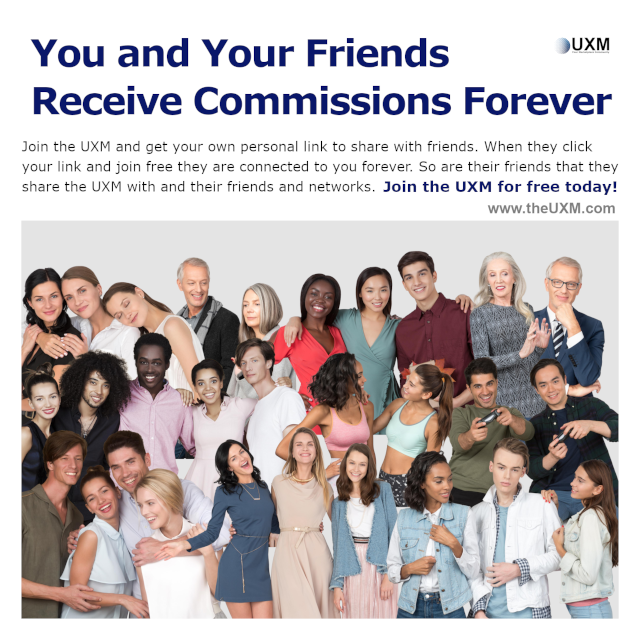 Imagine Turning the Global Marketplace Into YOUR Community
Watch as your personal UXM network grows right before your eyes while you and your network save money and make money by shopping online globally and locally. Every time your friends and their friends, and all of their networks, makes a money-saving purchase you and your friends make money. And you get to share the same money-saving money making opportunity with your friends and community.
On the UXM you can shop for every type of product and service with one easy-to-use marketplace. You'll enjoy a discount or bonus on every purchase of products and services for home and personal use, business use, and even commercial import-export purchasing. The UXM is your all-in-one easy-to-use shopping and procurement marketplace. And there is a lot more to the UXM.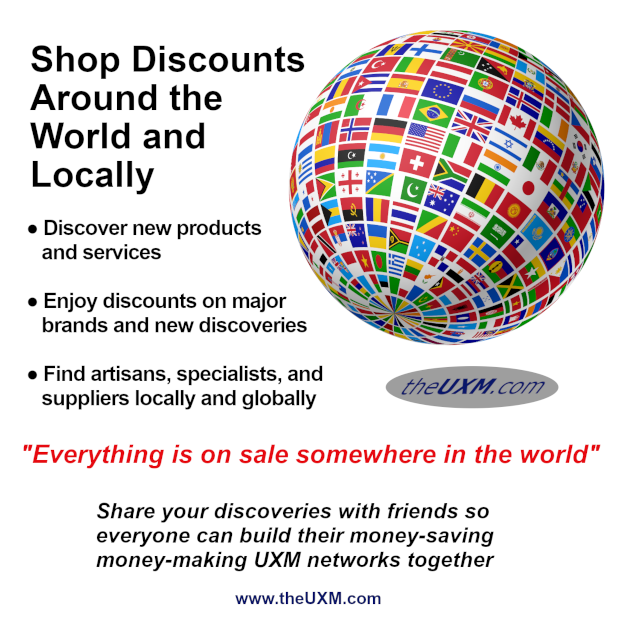 Watch the Video: Here's How You and Your Friends Save Money and Make Money on the UXM
Great Shopping and Great Deals are Just the Start
theUXM.com is your first stop for shopping and purchasing.
Every product and service sold on the UXM includes a discount or a bonus. So the UXM is a money-saver and a money-maker. And it's fun! You'll earn bonus points just for shopping even when you're not making a purchase. But with great deals on every product and service you'll want to make the UXM your first stop for shopping.
Every product and transaction type in the world is supported on the UXM … really.
Everything from a loaf of bread to a fleet of aircraft can be transacted on the UXM. Online, offline, B2C, B2B, O2O … every type of transaction can take place on the UXM.  On the surface it looks very simple because it was designed to be easy to use. But UXM ecommerce technology is very powerful. We've build transaction engines to support every type of transaction.
What does this mean to you? The UXM technology can support online sales of products and services, it can support offline sales such as restaurants and beauty shops, it can support complicated business-to-business selling and import-export selling, and oh yes you can also buy clothes, vitamins, and electronics too.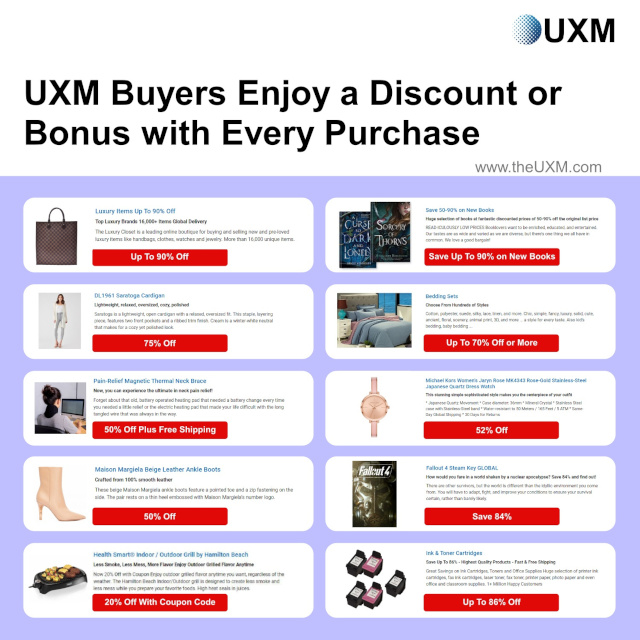 Here's How it Works. When you invite someone to join the UXM (always free to join) sort of like friending someone on social media, they become part of your UXM network. Every time anyone you invited to the UXM makes a money-saving purchase you make a commission. But that's just the beginning because when your friend invites their friends to save money on the UXM, you make a commission on all of those purchases also – and so does your friend! There's still more.
The Power of YOUR Money-Saving Money-Making UXM Network
You and your friends will be paid a commission every time their friends, and their friends, and even THEIR friends SAVE money by purchasing on the UXM. Simply stated, when you invite a friend to join the UXM you will receive a commission for everyone in their network for five levels of friend-invite-a-friend invitations.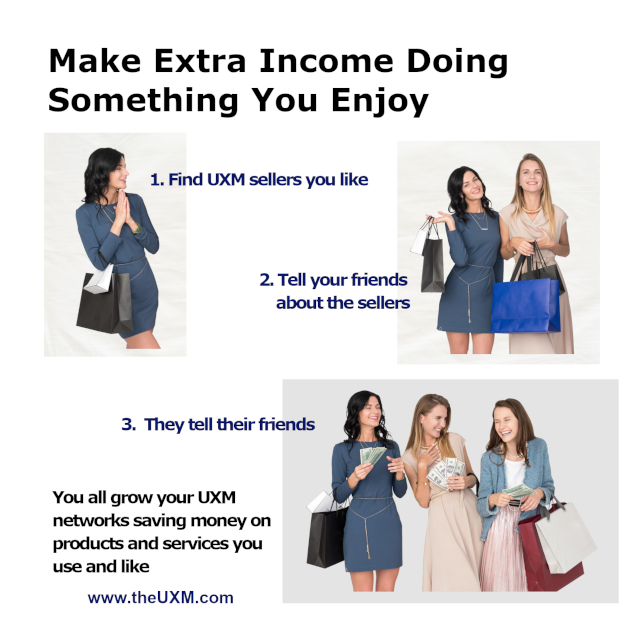 Bonuses Too!
In addition to the commissions you and your friends will be paid, everyone is eligible for UXM bonuses based on the total money-saving purchases made in your networks. This bonus is paid out every three months.
Receive UXM Commissions Forever
Once you've invited a member to join the UXM (always free), they and their networks are connected to you forever, so you will continue to receive commissions from your network forever.

Fun and Rewarding at the Same Time – Enjoy Rewards Just for Browsing!
In addition to saving and making money for you, your family and friends, you also have an ongoing chance to win prizes and rewards just for browsing on the UXM because the UXM will continually sponsor contests, giveaways, and other fun activities where you can get bonus points to win free gifts and rewards.
Watch the Video: Rewards Just For Browsing the UXM
What's the Potential?
The UXM just went live in April of 2020. We spent over two years developing the technology but we're just getting started in public and rolling out in stages. You can get great deals and invite friends to join right now in the beginning, and we will continue to expand every day to just about every country in the world.
The UXM is a global marketplace through which every transaction in the world can flow. Next, let's look at how powerful UXM technology works for you and your network 24/7 every day.
Powerful UXM Technology Works for You and Your UXM Network 24 Hours a Day, Everyday
UXM commerce technology "under the hood" is designed to handle every type of transaction. Period. Online, offline, business-to-consumer, business-to-business, online-to-offline, consumer-to-consumer … everything. While the UXM marketplace looks very simple, and is very easy to use, the technology driving it is extremely sophisticated. We've spent over two years developing it and it is very powerful. What you see online at the moment is not even one-tenth of what has been developed so far. And our development is ongoing so there is a lot more to come.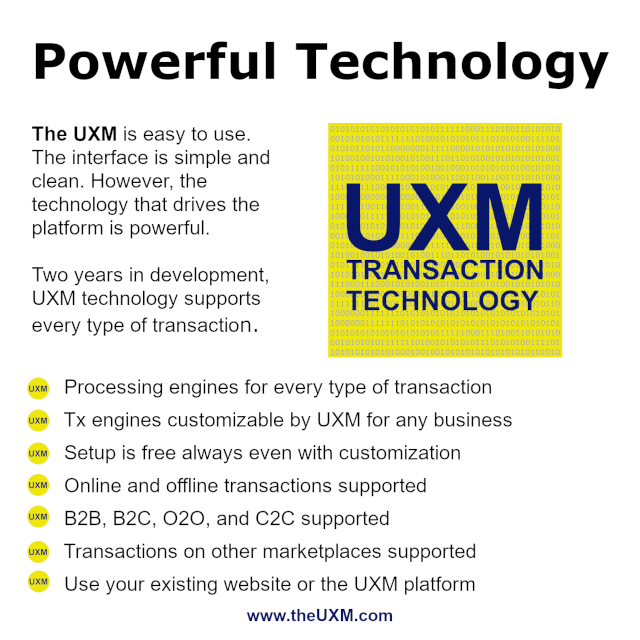 Watch the Video: UXM Powerful Technology
What does this mean to you? Because you make commissions for every transaction in your UXM network, and because the UXM can support every type of transaction everywhere in the world, you have the opportunity to receive commissions from the sale of products and services of every type happening anywhere and everywhere in the world. Once you've invited someone to save money and make money on the UXM, powerful technology goes to work so you both, and your networks, enjoy savings, commissions, and bonuses forever.
Free Always
Remember the UXM is always free to join for everyone. There are no "add on" charges, no membership fees, no subscription fees, no tiered pricing – ever. The UXM is free always, no strings.
Follow Me on the UXM
Okay, it's fun to share on social media, right? We all do it. But sharing the UXM with a UXM button or link has a special power unlike any other. Because everyone who clicks on your UXM link becomes part of your network and a powerful money-saving money-making process begins for you and your friend that can go on forever. So when sharing your social links and posts, remember to include your personal UXM link to begin a money-saving money-making process that lasts forever.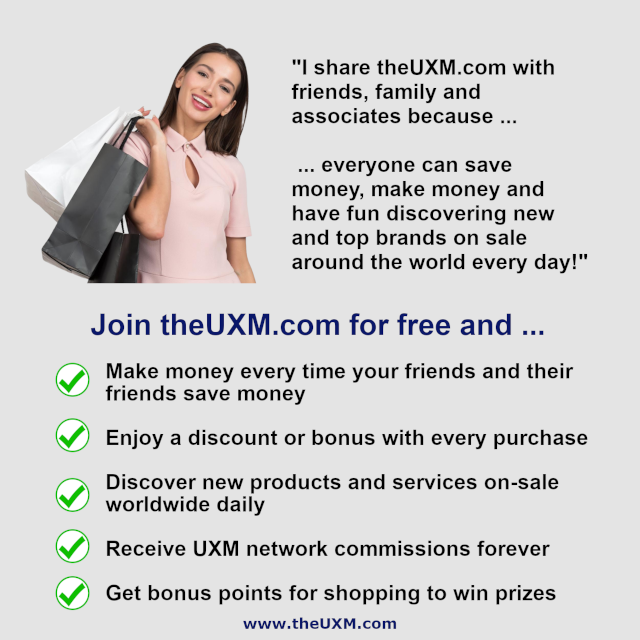 Now for Our Ding in the Universe 
Some may call us optimistic, some may think we're a bit zealous, and some may think we're, um, crazy. But we truly believe the UXM community will make its own ding in the universe. How? You see, after spending many years in business the founders recognized that there is a massive amount of waste in commerce. This waste ends up being a burden to both buyers and sellers because it results in unnecessarily high prices to compensate for wasted spending.
Watch the Video: Be Part of the UXM Ding
To make a long story short, we thought: What if we set up a system whereby a portion of the money that goes into marketing and advertising could just be rerouted directly to buyers of products and services. Kind of like going to your local store to buy a pair of shoes and having the merchant pay you directly for buying from them. Now that's a bit oversimplified, but in essence, it's what we set out to do and have accomplished.
Because sellers save money on the UXM, they can pass on savings to buyers in the form of discounts and bonuses, and still make their desired profit or maybe more. Everyone wins.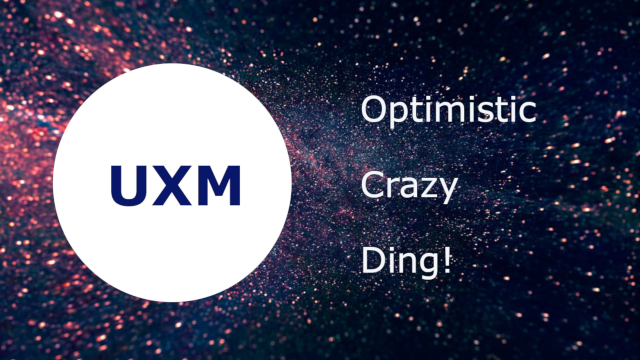 Discover Thousands, Even Millions of Amazing Businesses Worldwide
Imagine this. Right now all around the world there are thousands even millions of fantastic businesses offering fabulous products and amazing services, and you have never heard of them. Why? Because advertising and marketing require a great deal of money and skill. Most businesses can only afford to market in a very narrow space which limits their audience and their growth.
The UXM requires no up-front spending for businesses to participate on our platform. This makes the UXM a channel for every business worldwide to reach more customers. This provides you with a way to experience a world of new products and services, and help tell the world about them.
Watch the Video: UXM for Businesses and Sellers
Similar to how crowdfunding helps startups and new ideas get to market, the UXM helps established and young businesses of all sizes reach beyond their existing audiences and grow. Millions of small businesses around the world, many that have been in business for generations, are only known locally, now with the UXM they have a platform to expand globally.
The UXM removes complications and risk for all businesses providing small businesses the opportunity to sell right alongside the major brands and household names. Of course big brands enjoy these same benefits. The UXM is always about all-inclusive win-win-win.
Join us and be part of the ding!
Experienced Founders
The founders have decades of experience in ecommerce, international business, marketing, and finance. UXM CEO and co-founder, John Anthony Leper has taken ecommerce businesses from zero to millions of dollars in profitable sales within months. Our CFO and co-founder, Jag Kundi helped a consumer products company, as its CFO, grow from 70 million dollars to over 450 million dollars.
Watch the Video: About the UXM Founders
Friendly Expansion
We will be hiring a work-at-home or work-from-anywhere workforce. This is good for the economy and the environment because we can create jobs anywhere, instead of cramming more people into over-crowded business districts. This is good for the environment because there is no driving back and forth to work to pollute the air, and no causing health problems and over-stressing healthcare systems by spreading disease. We will be hiring work-from-home positions all around the world.
Join us now and let's grow together!
Start your money-making money-saving UXM network right now for FREE in under 30 seconds, click here